Sarasota is known throughout the southwestern Florida area for its delicious dining destinations and incredible vibes. If you've never been to Sarasota before, or if you are looking into Sarasota real estate, you might have questions about where you should eat first. Thankfully, all the work of finding the best restaurants has been done for you. Now, all you'll have to focus on is deciding which delicious option you'll try first. Read on to learn about the top seven Sarasota restaurants you must try the next time you're in the area.
1. Lila
1576 Main St, Sarasota, FL 34236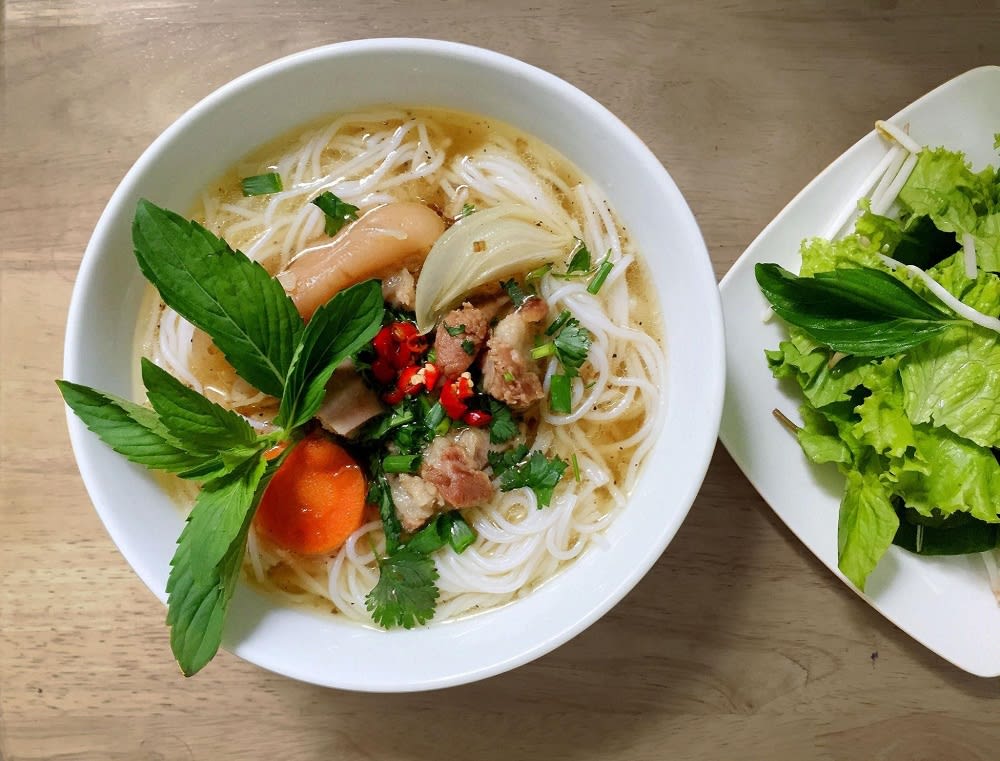 Photo courtesy of Unsplash

Most culinary experts believe that Lila has changed the game in terms of Sarasota dining. Before Lila, there weren't many local options that offered a wide selection of vegetarian or vegan choices. Once Lila opened in 2016, things quickly began to change. Many other restaurants are now following Lila's lead with the hopes of experiencing anywhere near the level of success that Lila has discovered.

Guests flock to Lila in droves hoping to enjoy the delicious Burmese noodle bowl. Make sure you ask for a spoon with your plate, because even though it comes with chopsticks, you won't want to leave a single drop of the delicious coconut and chili broth behind. The noodle bowl itself comes complete with mushroom, red onion, and rice noodles, along with your choice of chicken, falafel, or tofu. Lila is closed on Sunday, but they are open Monday through Saturday from 11 am until 9 pm. They also open 30 minutes early on Saturday.
2. Veronica Fish and Oyster
1830 S Osprey Ave, Sarasota, FL 34239

The seafood tower at Veronica Fish and Oyster is unlike anything you've ever experienced before. It will cost a little more, but it's definitely recommended that you go with the Bigger Plateau. You'll get an even larger helping of shrimp, raw oysters, smoked fish dip, and other delicious seafood options to sample. If you don't like seafood, you'll find plenty of other choices on the menu to satisfy your palate.
3. MADE
1990 Main St #112, Sarasota, FL 34236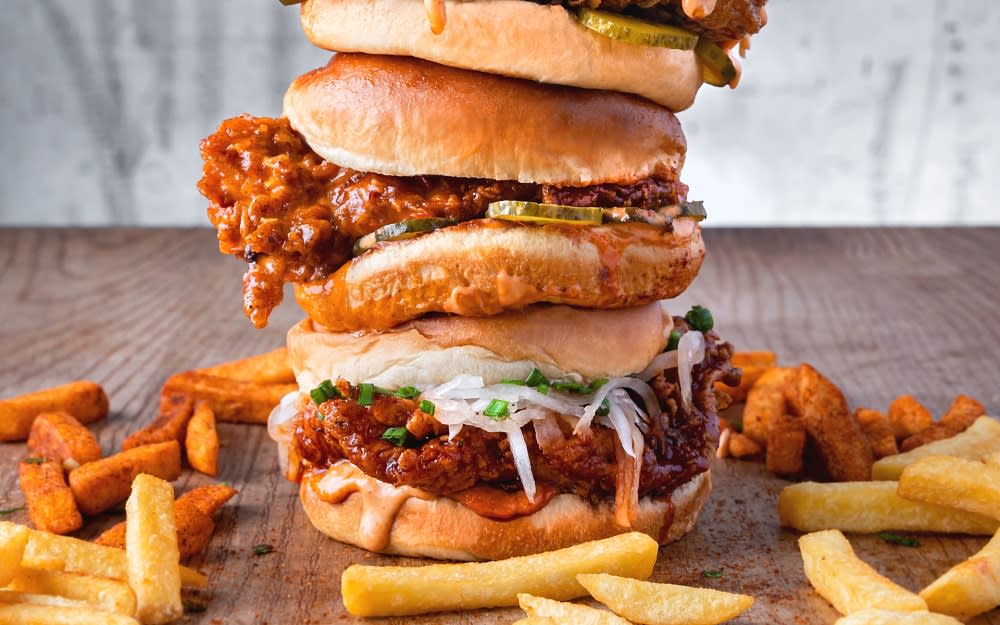 Photo courtesy of Unsplash

Nashville hot chicken lovers won't want to leave Sarasota without trying the delicious hot chicken sandwich at MADE. It's big in size, but it's even bigger in flavor. The chicken breast is fried and covered with hot sauce, bacon, cheese, pickles, and collard greens. If hot chicken isn't for you, perhaps you'll enjoy their pork mac and cheese plate or their burnt ends tacos served with queso fresco and refried beans. You can enjoy your sandwich inside the dining room or on their outdoor patio. Made is open Tuesday through Sunday, and hours vary by the day. They accept reservations on their website.
4. Shore
800 Broadway St, Longboat Key, FL 34228

Shore has multiple locations in the area, but most people agree that their Longboat Key location is the top choice. The restaurant offers multiple tiers of seating, which gives more patrons a chance to sit near the window with a picturesque view of the water as they enjoy a fantastic meal. The menu offers delicious choices like the St. Louis ribs or the grouper sandwich. They have a wide offering of cocktails from the bar, and you can't go wrong regardless of your choice. Shore is open daily from 11 am until 9 pm. You can visit their website to make a reservation for your upcoming visit.
5. The Spot Tacos and More
2303 1st St, Bradenton, FL 34208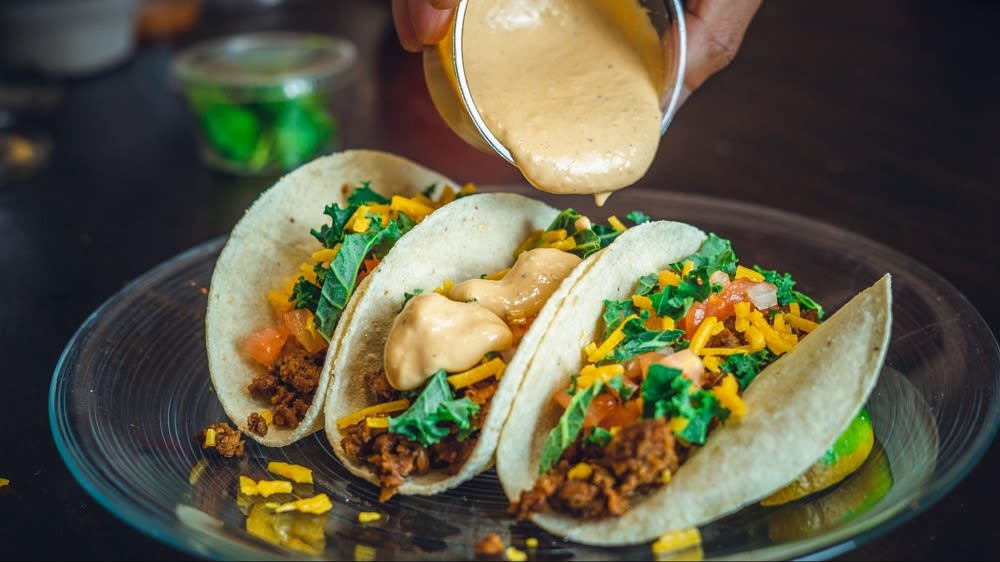 Photo courtesy of Unsplash

If it's great tacos you seek, head up to Bradenton for The Spot Tacos and More. Laura Betancourt got her start in the food industry when she ran a food and smoothie stand outside the Red Barn Flea Market in Bradenton. Eventually, she got tired of working outside on hot and rainy days, so she decided to open The Spot Tacos and More. Betancourt grew up in California and learned how to make delicious Mexican cuisine as she traveled around the West Coast. Her birria tacos were perfected as she worked alongside some of California's top cooks. The $10 birria taco plate includes a bowl of beef broth for dipping and is one of the best food deals you'll find anywhere in the Sarasota area. Also, don't skip the beef, pork, and chicken tacos. Each option is made with fresh tortillas and is absolutely delicious.
6. Tikka Indian Cuisine
525A U.S. 41 Bypass N, Venice, FL 34285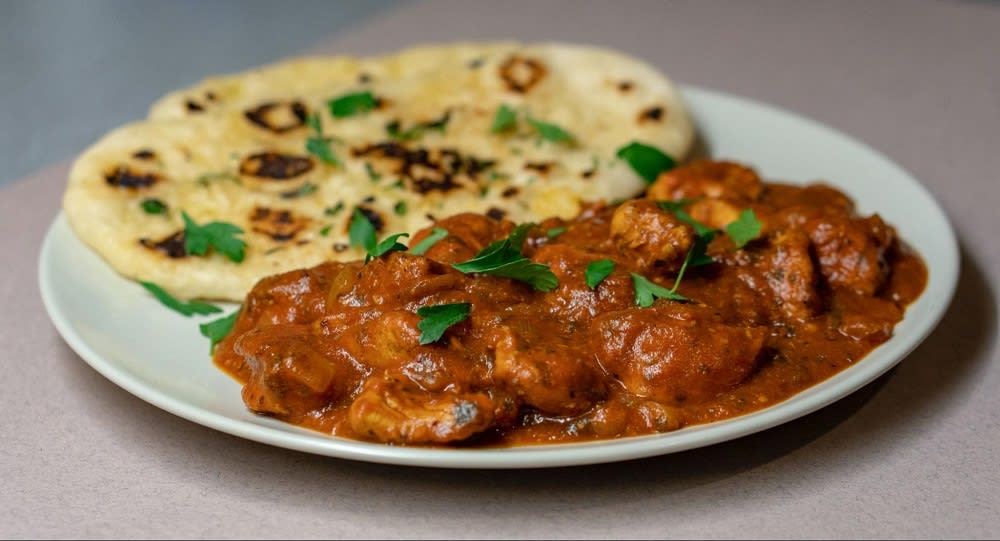 Photo courtesy of Unsplash

About 20 miles from Sarasota, Tikka opened in Venice in 2018. They serve delicious Indian food with your choice of spice level. The butter chicken is simmered in tomatoes and your choice of mild, medium, or hot spice. No matter what spice you choose, you can expect to enjoy meat that is incredibly tender. The garlic naan is the standard option, but you can opt for the chili naan if you want your meal to have an extra kick. Most diners choose to add pickled lemons and yogurt-based raita to their meals as additional condiments. Tikka is closed on Mondays, but they are open for lunch and dinner Tuesday through Sunday.
7. meLange
1568 Main St, Sarasota, FL 34236
MeLange has something for everyone on its extensive menu. The ginger caviar is delectable, and the soup is made to impress as well. These plates pave the way for a main course of beef short ribs or duck brie crepes. Executive chef Lan Bradeen first opened his restaurant in 2007 and has been impressing tourists and locals with his incredible cuisine ever since. His goal is to create the most imaginative and unique dining experience that you'll find anywhere in the Sarasota area. Melange is open from 5:30 pm until 10 pm Wednesday through Sunday.
If you're enticed by all that Sarasota has in store, team up with a leading agent to find Sarasota homes for sale.
Melissa Gissinger
is well-versed in everything Sarasota, and she knows how to help each of her clients find success in a constantly changing real estate market. She has spent the past 25 years working in the real estate industry, and she brings a fresh and unique perspective to guide every one of her clients. She would love to walk alongside you when you decide you're ready to take the next step toward buying or selling a
home
in the area. Get started today!